Improve your global customer experience with language quality management (LQM)​
We are releasing a new series of articles, "Content With Purpose." Twelve dedicated localization-focused articles on helping you connect and grow worldwide. Last month's article focused on globalizing your content with localization. This month we look towards improving your global customer experience with language quality management. 
Have you ever wondered why translation quality is so unpredictable when managing global demands? For some countries, the same translation process is received well whereas for others, it causes noise and delay. Some even say it sounds like Google translate. At worst, when the Head of Marketing is complaining to the senior management you know you are in trouble. 
Considering that the same content is being translated into 55 languages, why is it that France, Germany and Japan reject the delivered quality once again? You took over an approved process, but it now seems that the growth of the translation demand has a direct impact on the quantity of quality issues. 
Driving multilingual content delivery and managing the high number of stakeholders involved is a massive challenge for most localization managers and anyone involved in global content delivery.
This is especially true of companies that experience exponential growth. They tend to spend far too much time fielding local translation review feedback which creates delays and frustration. 
Let's uncover ways to regain control of translation quality once again!
Why is consistent language quality business-relevant?
Language has a direct impact on customer experience and on how buyers perceive your brand across all markets in which you operate. Inconsistent language quality in communications and product information in one or multiple markets can genuinely harm business. You can damage your brand, risk misinforming and alienating your customers, undermine brand ambassadors, creating a major headache for your global growth officer and senior management.
Language quality is particularly business-critical when:
Entering

new markets

Launching

new products

Product

registration

Raising

brand quality

Demand

peaks

or

exponential growth
Consider a couple of prominent examples concerning brand slogans. When Electrolux started selling vacuum cleaners in the US, the campaign focused on promoting the suction power of the devices with a slogan, "Nothing sucks like an Electrolux." You can just imagine how much attention that play on words attracted.
Less recent but equally insightful, in 2009 HSBC Bank was forced to launch a $10m rebranding of its global private banking operations and its "Assume nothing" slogan. Instead of conveying the idea that the global bank makes no assumptions about its customers' expectations across worldwide cultures the slogan was mistranslated as "Do nothing" in many languages.
Today the overall experience a company provides is as important as its products and services, says the Salesforce annual State of the Connected Customer report. In other words, poor language quality or miscommunication can have an impact not only on customers' decision to engage with you, but also on the price they are willing to pay.
How do you achieve language quality?
Creating an environment where everyone understands what language quality means and how to achieve it lays the foundation for making quality a habit.
Translation and localization processes typically involve a high number of stakeholders. Excellent stakeholder management is part of the game. This implies setting the right expectations with both external and internal stakeholders.
Running a well-working translation eco-system is a complex task. A Localization Manager is like the lead singer of a band; you make or break the concert with your stage presence. You set the atmosphere, connect with the audience, and make sure individual performances create a great overall experience.
Ultimately it comes down to language, a naturally very subjective topic. Defining quality parameters and putting the right tools and processes in place is key to consistently managing and achieving good language quality.
A Language Quality Management (LQM) program can provide a structured approach to creating a highly effective quality-oriented environment. Language Quality Management programs can be carried out internally or through formal programs with an external language partner.
What is Language Quality Management (LQM)?
LQM puts the experience of your users and customers first. A purpose-driven linguistic review can make sure your investment in translation results in accurate and engaging content in all of your supported languages, time and again.
LQM assesses linguistic accuracy and, crucially, confirms adherence to style and terminology while ensuring the translation properly reflects the brand image. The more evolved LQM programs will also analyze quality performance on an ongoing basis, identifying problem areas, determining root causes, and putting remedial measures in place for continual improvement.
Using market experts and feedback from your target audiences and standard quality metrics, you can identify what has the most significant impact on your customer's perception of language quality (in your specific context).
Capturing these essential aspects of quality and creating viable KPIs is not necessarily easy. It requires expertise and experience.
When putting together a Language Quality Management program for our customers, we consider the following pillars as fundamental to a successful outcome:
Process
Stakeholder identification and management to set expectations

Workflow agreements & governance of programs that create ownership

Definition of program scope around source content, linguistic aspects or quality management
Resourcing
Identification and onboarding of linguists

Training of linguists based on guidelines and defined quality metrics

Roles & responsibilities for managers, language leads, and reviewers
Quality metrics
Quality framework defining error categories and weights

Quality dashboard providing relevant data and management insights

Quality reports including business intelligence and regular business reviews
Technology
A system that supports

LQM

functionalities and workflow automation

Dashboard providing relevant status and performance

data

Linguistic asset management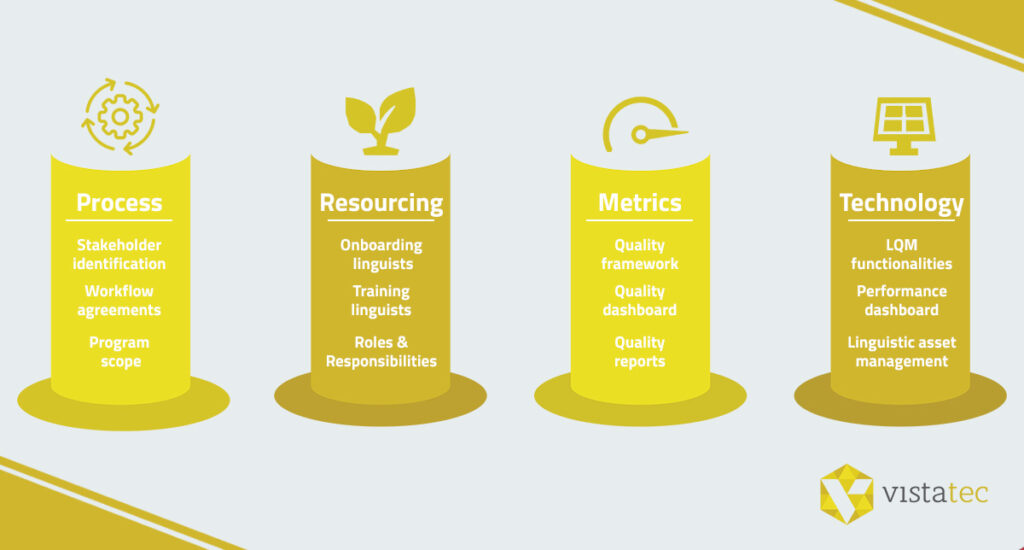 Many organizations have very successful internal programs in place to manage language quality. Still, as their global content requirements grow, they will frequently look for an external solution to allow them to scale at speed. 
Empty heading
Scaling for rapidly growing demands 
Rapid growth from global expansion is exciting for the entire organization, and the localization team's role is vital; this should help raise its profile which is essential because teams may be too small to properly handle new, complex demands across multiple sites and departments and so need investment for growth, just like every other business function.
The world's largest supplier of sports footwear, apparel, and equipment, has worked with Vistatec to take over a fledgling language quality review program. In the third year of operations, we have moved well beyond the initial quality review program to become a true business partner with an onsite presence and a worldwide network of resources delivering various services and components. We became an extension of the client's team and now manage complex language requirements across many sites and teams, helping scale their rapidly growing demands.
In this case, Vistatec helped the client's team with a sophisticated language quality management program. We set a precedent for two aspects their internal stakeholders hadn't previously trusted them with: working on reactive content and delivering content they acknowledge is of a higher standard than they could source internally. 
Take the Stage
Imagine the next time your French, German and Japanese colleagues approve the translations in the first round with zero complaints. Feedback from the regions indicates high levels of customer experience and engagement with your brand. 
You no longer spend your days dealing with language quality issues and can focus on the core activities of your role again. Whether this is creating good content, launching a new product, or protecting your brand's integrity in times of fast growth. 
You would be able to bring translation and localization to the management table as an investment that pays off, directly impacting the global customer experience. You set the atmosphere, the guitar solo starts, and there it is… applause from an ecstatic audience. 
Speak to our team today to explore setting up your Language Review Program.
Stay tuned for more 25th Anniversary articles coming soon. For all the latest updates, sign up for the newsletter. #ContentWithPurpose #Vistatec25 
At Vistatec, we have been helping some of the world's most iconic brands to optimize their global commercial potential since 1997. Vistatec is one of the world's leading global content solutions providers. HQ in Dublin, Ireland, with operations worldwide.