Vistatec Gsuite
B2B & MFA
Sign Up Guide for External Users
Overview
New users with Vistatec G-Suite accounts are required to reset passwords and enable 2 Factor Authentication to access Vistatec resources. 
Steps to Enable Gsuite MFA
You will need to go to https://accounts.google.com/ 
Enter the email address you have been given by Vistatec and click next 
Enter the password you have been given by Vistatec and click next 
Accept the terms and conditions 
Skip the Change password section if you have already changed your password prior to 2FA being rolled out: 
You will now be prompted for a new password (Needs to contain Uppercase / Lowercase / Number)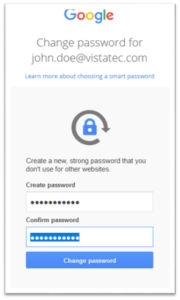 Once you have successfully changed your password you will be presented with the enrolment screen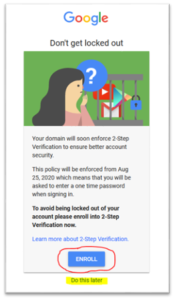 You can either enroll your 2FA now or you have the option to 'Do this later', note if you miss the date you see on your own G-Suite enrolment screen you will no longer be able to login and must seek assistance from Vistatec
Once you select 'Enroll' you will be asked for your password once again.
You will now need to enter your Phone Number, make sure you select the correct country code and select either voice call or text message, click next when complete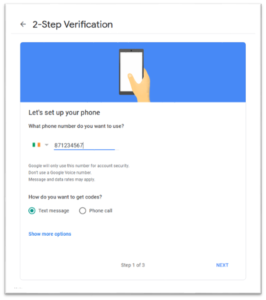 You will now receive a TXT or call from Google with a verification code, enter the numerical code and select next then 'Click 'Turn On' to enable 2FA
Additional  2FA If your preference is to use TOTP Authentication instead of SMS/Phone Calls
Setting up Authenticator:
If you prefer to use an Authenticator (Google Authenticator / Microsoft Authenticator / Authy / Lastpass etc.) instead of SMS or Voice Call then please follow these steps.
Select 2-Step Verification on the security Panel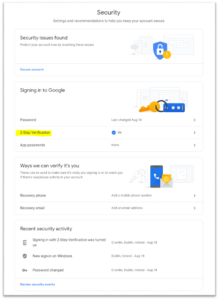 Enter your G-Suite password
You now have the option of setting up different methods of 2FA, we are going to just use the Authentication app for this guide.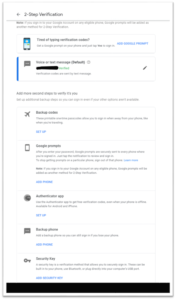 Click Authenticator app set-up to begin the process
You will be prompted if you own an Android or iPhone, you will then see a QR code, you will need to download the application from the store then follow the prompts, you will need to point your back camera at the QR code once you have the app open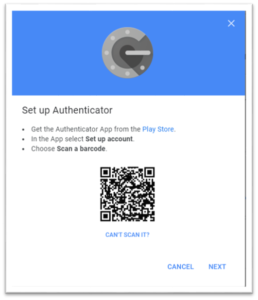 Click Next once you've scanned the QR on your phone.
Now Enter the 6 Digit code being displayed and click verify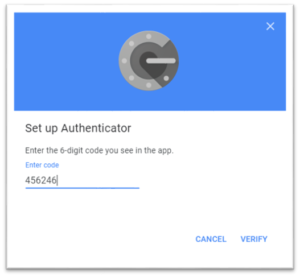 If successful you will see a 'Done'you're all set message, click Done to finish
The next time you login you will be presented with a 2-Step Verification code prompt, enter the code displayed on the Authenticator, note that the codes rotate every 30 seconds.