VistaTalks Ep - Mari Cahalane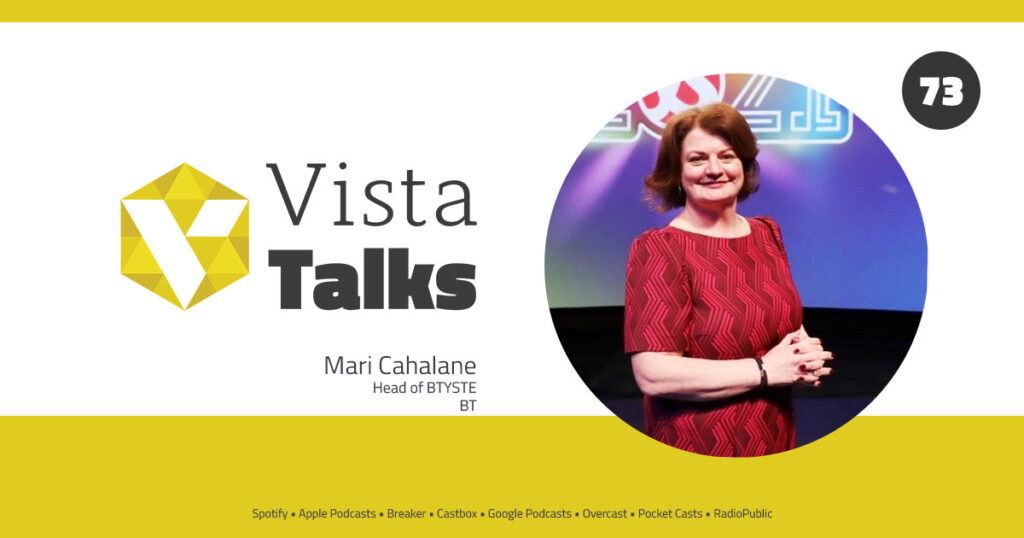 Mari Cahalane is a passionate advocate of STEM education for young people. She has been involved in the BT Young Scientist and Technology Exhibition since BT took over the sponsorship in 2000 and is the head of this magnificent STEM initiative. Leading a team in BT and externally to deliver the event on behalf of a charitable trust. In the almost 60 year history over 50,000, project ideas have been submitted by over 100,000 participants.
In 1963 two UCD physics researchers, Rev. Dr. Tom Burke and Dr. Tony Scott, came across the concept of 'Science Fairs'' while conducting research in New Mexico, America. These local school science exhibitions culminated in State Fairs and ultimately a national competition. The pair decided that this type of hands-on science was something that Irish students could benefit from by taking science outside the four walls of the classroom and showing that it is all around. And so the BT Young Scientist & Technology Exhibition was born. The first competition was held in 1965 in the Round Room of the Mansion House in Dublin. It attracted 230 entries, and the first-ever winner, John Monaghan, has recently retired as Chief Executive Officer of Avigen, a US Biotech company. The first year's success was such that the exhibition moved to the much larger venue of the RDS in year two, and it has remained there ever since. In recent years the number of entries has increased dramatically. The event attracts over 40,000 people making it one of the largest events of its kind in Europe, if not the world!

BT has been the proud custodian, sponsor, and organiser of the BT Young Scientist & Technology Exhibition for over 20 years. The essence of the exhibition is the spirit and ingenuity demonstrated by the students who participate.  As a leader in innovation and technology, BT is thrilled to help cultivate and nurture the talent of our future scientists and engineers through the exhibition itself and also the BT Young Scientist Business Bootcamp.