Welcome to the Vistatec brand identity guidelines. The purpose of this guide is to give you an overview of the key elements of the design and a few examples of how to apply it. We recommend that you read through this guide before starting any design work. Our aim is to give you all the help we can to produce high quality, consistent design that really brings our brand to life. Whether you are a member of staff or a supplier, you must follow these rules. A Brand is made up of a combination of the elements which are used in a variety of applications. These guidelines will explain how to use the elements so that the style and brand are used in the correct way. Every application must maintain the 'spirit' of the identity and be well designed.
Basic Elements
1.1 UNIQUE SELLING PROPOSITION
Deliver an unrivalled globalization service by working in partnership with you
Generate a real return on your investment, globally expanding your brand and market share
Committed to understanding your company's brand through the development of a long term professional relationship
Aim to provide a consistent, global emotional response to your brand, no matter where or how it is viewed
Has a team of highly trained experts to quickly and efficiently bring your brand to market, supported by cutting edge technologies
Provides you with superior customer service that does not compromise on quality, consistency or reliability
We are visionaries, pioneering the industry path to the future of globalization
1.2 BRAND VALUES
Excellence // Integrity // Client Focused // Agile // Visionary
1.3 CORPORATE COLOURS
There are 4 main corporate colours that should be reproduced as accurately as possible in whichever medium they are used.
PMS: Pantone Matching System
CMYK: 4-colour process = Cyan, Magenta, Yellow, Black
HTML: web safe hexadecimal value
RGB: Digital Red, Green, Blue values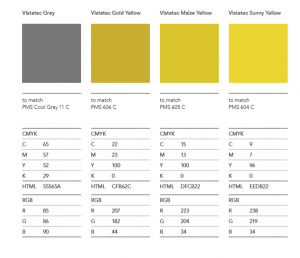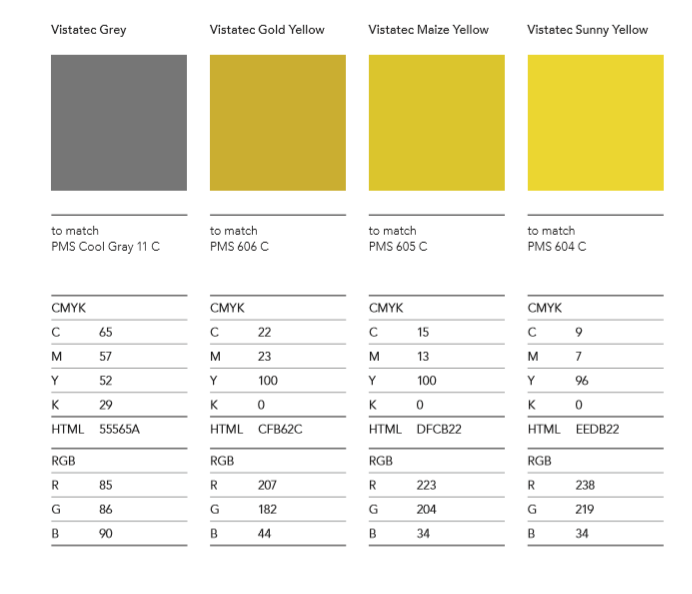 1.4 SECONDARY COLOURS
The secondary colors that appear below have been specifically selected to work well together and with the primary corporate colors. The use of these colors is not mandatory, nor are other colors proscribed. Choosing from this palette, however, will provide consistently strong results.
CMYK: 4-colour process = Cyan, Magenta, Yellow, Black
HTML: web safe hexadecimal value
RGB: Digital Red, Green, Blue values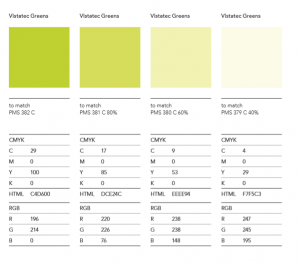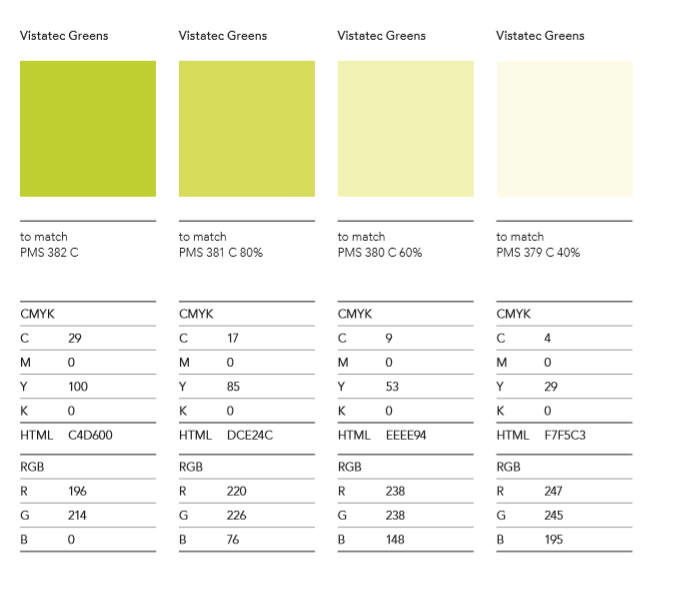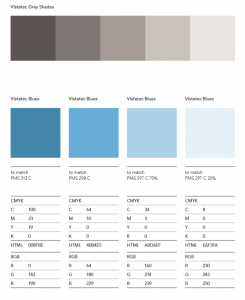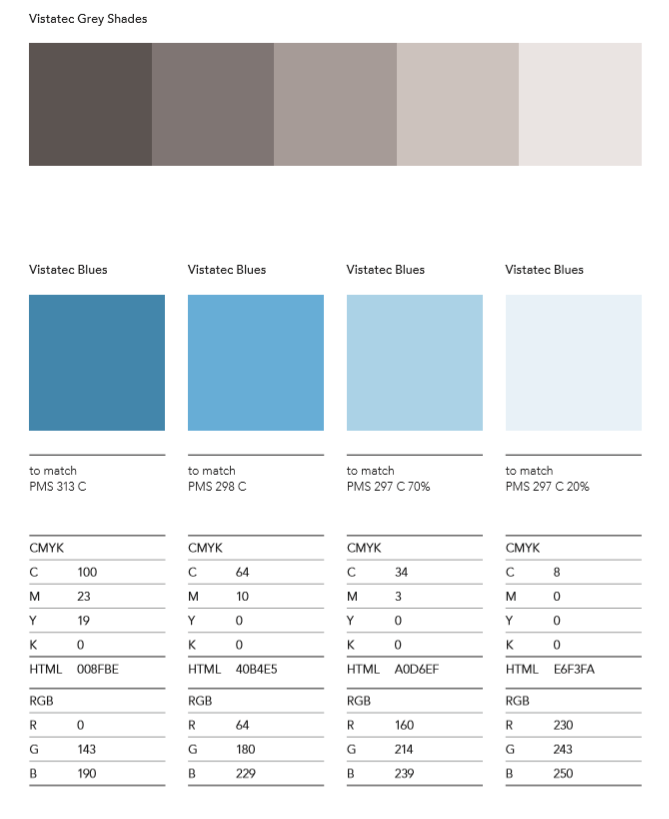 1.5 TYPOGRAPHY
The Vistatec brand typefaces are Modum and Titillium Web. Modum is the main logo typeface, Titillium Web is used on the corporate material while Arial is used for in-house documents.
For ease, a variety of weights have been selected for use throughout the organisation (see below).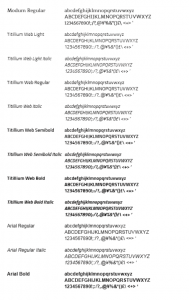 Logotype
2.1 MECHANICS
The logotype comprises the Name and symbol. These elements should be used in conjunction (locked-up) with each other and in the approved colour-ways.
The various logotype versions are laid out and explained in this section. They can be obtained in a variety of file formats including: EPS, JPEG and PNG files. Please study this section before using the logotype.
Unique logos are not allowed, without exceptions. This undermines efforts to build a unified Vistatec brand. Please contact the Marketing Team if you have questions or concerns.
The logotype has been created in a number of colour-ways, which are explained in more detail within this section. Do not try to alter any aspect of the logotype and do not try to recreate it. Use only the logotype which has been supplied and approved.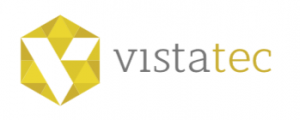 2.2 COLOUR VERSIONS
For documents with high-quality print reproduction it is best to render the logotype in its four corporate colours. Always try to get a good colour match.
Reversed, white, black and grey versions are also provided for when colour is not possible.
The logotype can appear on a coloured background. It should only appear on an approved corporate colour or colour that will 'hold' the detail. Make sure the correct version of the logotype is used
When on a coloured background the Logotype can be as shown, depending on the quality and contrast of the background.

2.3 EXCLUSION ZONE
An exclusion zone—the minimum unobstructed area around the logotype—has been developed to make sure that the logotype is sufficiently prominent. For all logos, the exclusion zone is determined by the size of the 'tec' in Vistatec. The measure of this space is minimum unobstructed area around the Logotype.
Do not allow type, rules or any other graphic device into this area. An acceptable colour may run through the entire background as specified in Section 2.2.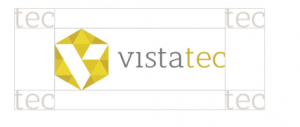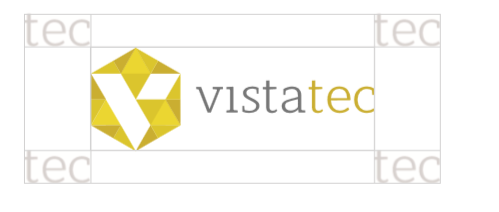 2.4 MINIMUM SIZE
For clarity and reproduction quality, do not use any logotype smaller than the one shown (30mm). Use the correct version of the logotype depending on the size requirement and reproduction quality.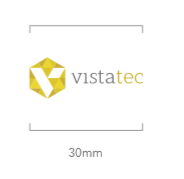 2.5 THE BRAND NAME
On all documents the brand name should always appear as one word, with a capitalised V:
Vistatec
SENDING FILES TO PRINT
You will be unable to view Illustrator and Photoshop files supplied without the proper applications. Jpegs have been supplied of all logos for inhouse use so you have a visual guide of what is on the disc and what you are supplying the printer.
The Illustrator/Photoshop files should be supplied to Design Agencies and Printers when organising a reprint of any of the brand materials.
The Brand Guidelines should accompany logos supplied to printers or design agencies. These have been supplied in pdf format. Please retain a copy of your brand guidelines at all times and send a copy when organising a reprint.
The RGB files (Saved in in For Screen Folder) can be used for internal documents eg.word documents or powerpoint
Logotypes, documents and other artwork not supplied can be obtained by contacting:
Simon Hodgkins Vistatec 700 South Circular Road Kilmainham Dublin 8 Tel: Fax:
T +353 1 416 8000 F +353 1 416 8099 E [email protected] www.vistatec.com