VistaTalks Ep -Mathilde Jakobsen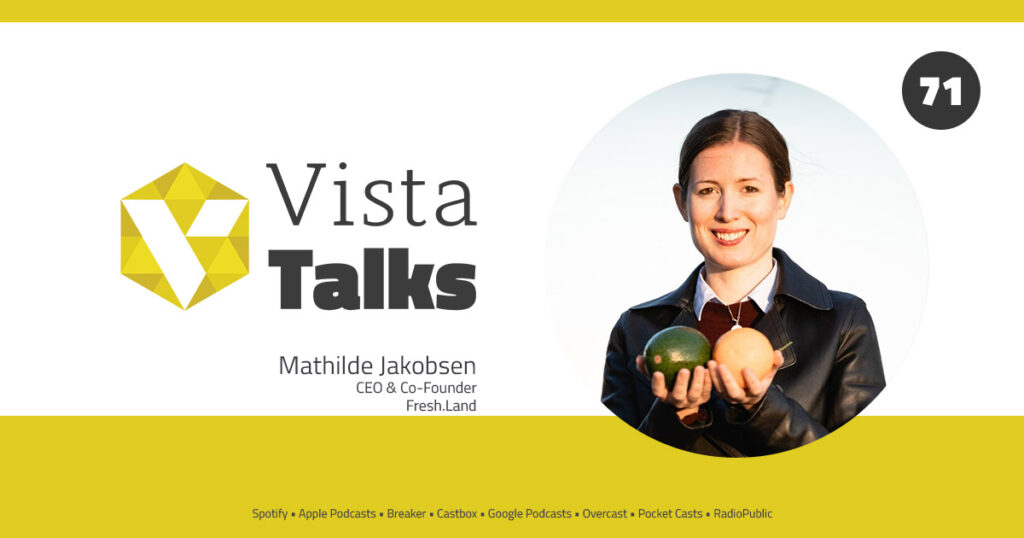 Mathilde Jakobsen is the Co-Founder of Fresh.Land, a disruptive food-tech startup that is digitizing and shortening the food supply chain, connecting farmers and consumers directly to a more sustainable and equitable model. All products are natural without surface treatment and freshly harvested for every shipment. Fresh.Land reduces the carbon dioxide footprint by 88% from coldstorage and food waste by 10%, compared to conventional distribution methods (WWF, 2016). Forbes mentions Fresh.Land as "one of the most promising green start-ups." The WWF states that the company is a "green pioneer."
Mathilde is a disruptive thinker on a mission to build a more sustainable food system. In this episode, Mathilde shares the inspiration behind Fresh.Land and how the business began. From its initial beginnings, the company has expanded into Germany, Denmark,Sweden, Portugal, Spain, Greece, Italy and continues to grow internationally. At present, the business is launching into one new market every month!
Mathilde shares some interesting views on the industry, and the company website states that The fresh food we usually eat is not as fresh as we think. An orange in a supermarket is, on average, four months old. An apple is, on average, twelve months old.
Food is preserved with surface treatments in the traditional food chain (to achieve a shelf life for as long as possible). Half of the fruits and vegetables tested by EFSA in 2019 contained chemical traces. Fresh.Land allows consumers to buy directly from farmers by bypassing up to 5 intermediaries and has developed a groundbreaking and award-winning digital platform that shortens and digitizes the food supply chain, providing easy access to good quality food.
Fresh.Land is a unique business that prides itself on:

No planes
To ensure the greenest path from farm to fork, none of our products are shipped by air. The short travel time is solely a result of our principle that our food never stands still in department stores.

No waste
Our fruits and vegetables have a shelf life of about two weeks after delivery. They have not been artificially matured and have not been stored in warehouses or supermarket shelves. Therefore, there is no food waste in the supply chain.

No plastic
We do not use unnecessary plastic packaging in the shipping of our products. Your fresh fruit and vegetables come to you directly from the farm, and therefore we can avoid by far most packaging. Some particularly sensitive products may need packaging to stay fresh, and for this, we use degradable alternatives to plastic as far as possible.
From the Fresh.Land offices in Copenhagen, the diverse team helps to coordinate their growing international business. Matildhe explains how entering a new market every month is extremely busy! She believes that "it's not about the idea; it's about the execution, so if you have a good idea, go and execute on it."