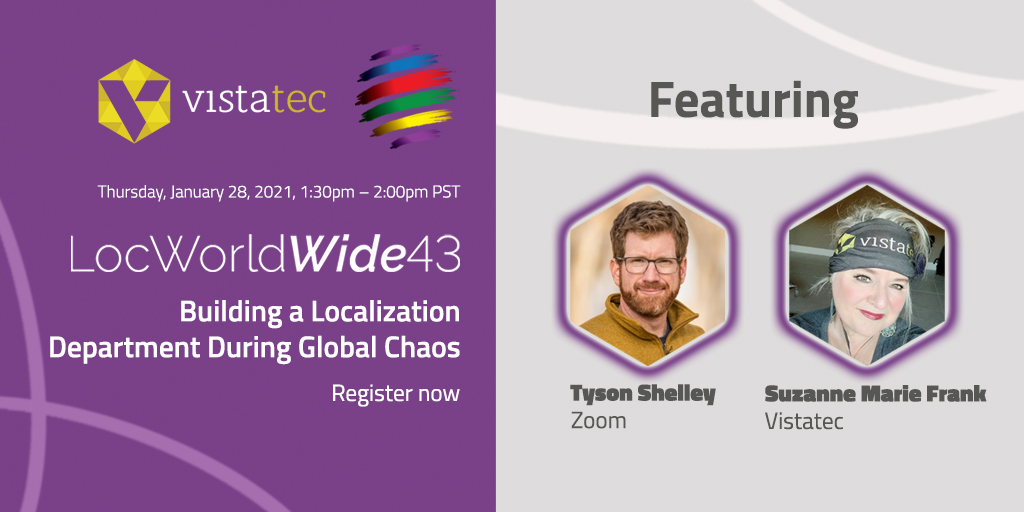 The theme of LocWorldWide43 is "Engage Global Users."
In this new Vistatec interview session taking place at LocWorldWide43, Vistatec and Zoom will help to showcase the successful building of a center of excellence from the ground up at Zoom Video Communications. We will discuss the process created from stakeholder agreement, team creation, automation best practices, process best practices, challenges to watch out for, and shared success of the program.
Takeaways
Attendees will hear about best practices for building a localization center of excellence and how to overcome challenges along the way.
About LocWorldWide43
You would like to enter new markets. You study the statistics, analyze your cost of entry, calculate your return on investment. You determine what will be necessary to create a localized presence in those new markets.
This is all good. But it is easy to overlook the most crucial part of this whole process. It's not the markets or countries, it's not (necessarily) the paying customer. It's the end users. Even if you are selling to companies, you are actually creating a product for the end users: people who work for those companies or, even more removed, their customers. From introductory user interface design to sales and follow up service: how easy have you made it for users? How comfortable are they with you and your offerings? Do they feel welcome when using your site, your product, your support resources? Have you encouraged trust by showing your ability to cater to their needs?
This is the focus of LocWorldWide43.
About the Speakers
Suzanne Frank is the Vice President of Global Enablement at Vistatec.
Tyson Shelley is the Localization Manager at Zoom Video Communications.
About Vistatec
We have been helping some of the world's most iconic brands to optimize their global commercial potential since 1997. Vistatec is one of the world's leading global content solutions providers. HQ in Dublin, Ireland, with offices in Mountain View, California, USA.
To learn more about Vistatec, please visit: https://www.vistatec.com