Grow Global While the World's On Wait - Featuring Professor Sasha Strauss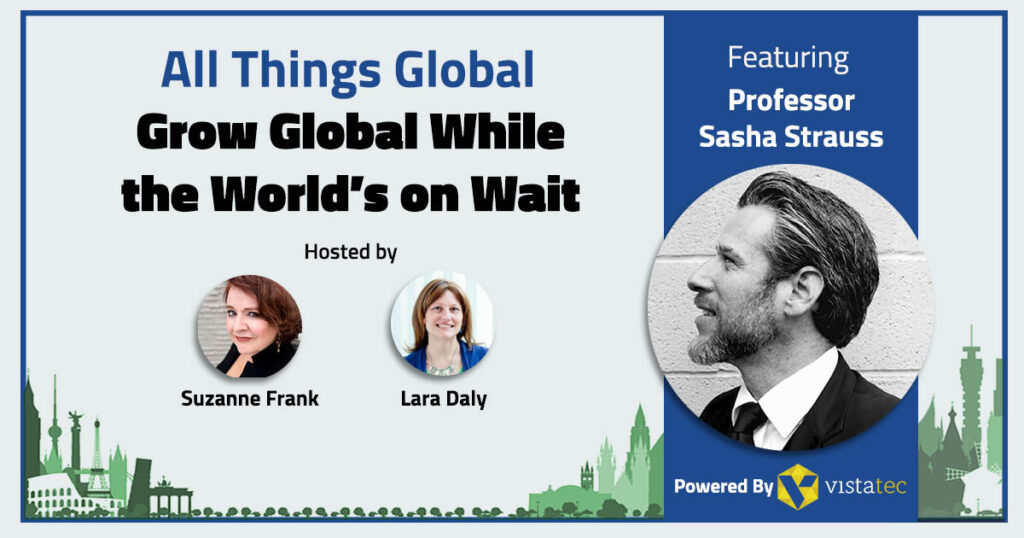 Episode 1 of All Things Global, titled Grow Global While the World's On Wait, was hosted by Suzanne Frank and Lara Daly, Vistatec. A presentation was delivered by Professor Sasha Strauss, a UCLA Anderson School of Business graduate and professor, an annual inspirational speaker at the Google Leadership conference, and the founder of the strategic branding consulting company Innovation Protocol. 
Lara Daly opened the presentation by describing the way that global business brings the world together and creates cohesion. Crisis provides an opportunity to bring businesses together and grow in spite of the odds. In the time of COVID-19, many businesses are unsure of how to operate a changing landscape and thrive despite the odds. Daly introduced Sasha Strauss of Innovation Protocol, who segued into his presentation by admitting that connecting the world in a COVID era and giving business leaders the tools that they need to succeed is what he hopes to do throughout the event. 
Strauss outlined three categories.
The Situation

: The COVID-19 pandemic, and how it has affected global business.

The Considerations

: How businesses and thought leaders should think about adapting to the changing landscape.

The Opportunities

: The way that challenges can be reframed to be considered as global strategy.
Growing Global While the World's on Wait: The Situation
Sasha Strauss gave a brief overview of the COVID-19 pandemic and the way that it has affected global business on a large scale, covering the situation effectively and with clarity. Six months ago, people had constrained access and now, consumers are "gorging themselves" on content, as Strauss put it. Globally, digital media is now the medium by which many people communicate. It's not only the primary mechanism, but 9/10 relationships are now digital, using notecards to illustrate his point to attendees. Strauss points out that this new digital mindset is actively changing behavior. Doing business globally is now so much easier, as it puts everyone on a common platform and common channel. People are now open to new relationships, with Strauss illustrating this using the example of LinkedIn's former option only to allow connections with people that users knew personally. 
Strauss says that everyone is "super into" the idea of connecting, something that is inspiring. Teamwork has also become a lot more inclusive, with a great deal more feedback offered on digital teamwork software than the previous method of simply handing over paperwork without much input or support from team members. Strauss debates the concept of "who will save" businesses from the global crisis, noting that he doesn't believe it will be religions or government. Strauss says that it is that very global business model that will bring "us all back together."
The Considerations: Adapting and Overcoming
The new digital environment of Zoom meetings and Google Meet can be difficult and strange for many people. Business is different now, and companies are forced to rethink the way that their companies are run. Sasha Strauss referenced three distinct eras, before COVID, during COVID, and after COVID. "How do I want to be known?" Strauss mused. "I don't want to wait until something gets figured out. I care deeply about a global perspective, and I'm not waiting around." Strauss called upon attendees to think differently about their businesses, holding up a colorful card and noting that they need to do three things: work like an impactor, think like a strategist, and enterprise like a maker.
"Even though you didn't choose this, you can win this," Strauss said. "But that will only work if you accept this (digital) channel." Strauss reinforced that business leaders shouldn't look for the digital world to go away any time soon and that those who wish to become true winners in the new global space should thoroughly embrace it. Strauss talked about the "breadcrumb trail," which is that every digital interaction put out there is tied directly to that person. Everything from the file name to the email headline reflects on the business leader — and those who wish to make the most significant impact should be aware of that. This ties into how thought leaders and managers present themselves on Zoom and through other digital interactions.
The Opportunities: How to Accept and Embrace the Digital Model
Professor Sasha Strauss segued into the third part of his presentation by noting that "you get to define your career right now. Act out appropriately." He held up a sign that said, "be the train that drives biz forward." Then, Strauss opened up his presentation to questions, encouraging attendees to debate and discuss the topic. Lara Daly asked Strauss if he's seen people "dive off the cliff," asking him to note any specific instances of those businesses who have not thrived in the crisis era. Strauss demurred, noting that he's witnessed examples of companies who have not done well in the COVID era and that mindset is so important to embrace the new normal.
In response to an attendee question about how to work with more sensitive markets such as Japan to facilitate global growth, Sasha Strauss said that "when you teach, people will give you permission not to be perfect culturally." Strauss elaborated that if business leaders are open about their desire to facilitate clear communication, most will understand that digital media is truly a "bridge" to better understanding.
Tim Arata, an audience member, asked Strauss about overcoming frustration related to social media, noting that it can be hard to separate the wheat from the chaff. Strauss responded that it's not true that those who post the most "win," stating that those who "like" and respond to other people's posts tend to do the best. Therefore, social media comes down to connection rather than relentless posting. Strauss also gave a tip about specific content, noting that videos are much more successful than simple posts — even though most videos tend to be watched on mute, those videos should be posted with subtitles if possible.
Silvia Avary asked Strauss how he believes that those business leaders who thrive during the era of at-home work will be able to transition back into the office environment. "Some of us will be back in offices," Strauss said, calling out product teams and those with similar roles. He went on to specify that many will remain in at-home positions long after "Covid, the disease" is in the rearview mirror and that everyone should work together to create the "glue" that will keep the economy thriving. Strauss also recommended that people who work from home embrace the new normal and equip themselves to thrive, including investing in a proper home office and the space necessary to do well and feel confident.
"Can you talk about how we get the team that we have to see that the work that they are doing is impactful?" Lara Daly asked Strauss. He stated that the topic is near and dear to his heart, talking about the importance of nonprofit work and the power of sharing your "mastery" with others — i.e., offering up plenty of business expertise and success tips to those who are curious about the good work that their company is doing.
Strauss talked about how to thrive in a time of crisis, both as a global brand and as a professional, noting that much of this comes down to connecting with colleagues and asking for feedback as well as consuming information from books and podcasts. Strauss called out that everyone wants feedback, although some might have a hard time receiving it. However, at the end of the day, feedback is essential for growth. 
Nikole Gross asked Strauss, "how can I learn so I can teach?" Specifically, Gross asked Strauss to help her define how to present a social media identity to help others within her organization better. Professor Strauss acknowledged that it could be scary to immerse oneself in social media. Sasha mentions that social media limitations can include limiting comments and responses on posts, videos, and streams. Strauss went on to detail how social media is as much for listening as it is for talking, so everyone should get the listening part down by paying attention to the best practices of others. 
In the last five minutes of the event, Suzanne Frank posed one more question for Sasha Strauss, asking him to provide some creative ways to build intimacy with customers and clients in this new, digital age — in the absence of afternoon coffee or tea with colleagues. Strauss revealed that the most successful behavior that he's seen is organized wine nights with a few select colleagues, hosting conversations and questions. Strauss said that the wine nights were so successful that the business had to begin virtual baking nights. Not only does this speak to a continued desire for community in the age of COVID, but it reveals how one business was able to turn a challenge into a major win. Of course, there are other ways to get people involved via Zoom, including games like Pictionary, opening gifts on camera, and more. Ultimately, as Strauss outlined at the very end of the presentation, mindset is what will power thought leaders through the pandemic, empowering them with the skills to grow as global strategy experts as well as compassionate colleagues.
About Vistatec
We have been helping some of the world's most iconic brands to optimize their global commercial potential since 1997. Vistatec is one of the world's leading global content solutions providers. HQ in Dublin, Ireland, with offices in Mountain View, California, US