Empowering Your Business With Global Self-Service
Digital transformation driven by a global pandemic has increased the need for digital customer-first self-service platforms. The following is the second excerpt from the ebook Empowering Your Business with Global Self-Service by Visatec as part of Vistatec's Digital First initiative. Click here to read the first except
As the demand for global self-service continues to transform the landscape for companies and clients alike, businesses must be prepared to implement self-service portals that help clients engage with them. While the look and feel of each self-service platform will vary with each company's brand, the platform's features and utility will make the biggest impression on clients. Businesses must ensure that their self-service platform allows clients to conduct the transactions they want easily and quickly. To that end, businesses should keep in mind the following features when designing their self-service platforms.
Multilingual Accessibility and Multicultural Relevance
A self-service platform should be accessible in multiple languages. On a fundamental level, if a section title, button, or website is in a user's language, all the following content should be in the user's language. From a client's perspective, could there be anything more disappointing than clicking "Buy Now", "Learn More", or "Self-Service" in English and landing on a Japanese language page the company thinks you can successfully navigate? A self-service portal that a client cannot read is one a client cannot use. Furthermore, clients may question how much a company values their business if it does not provide self-service options in their language.
Even if a business' self-service portal translates content into multiple languages, if in-language content ignores regional customs or uses inappropriate style, vocabulary and tone, the content can easily turn away a user. Business history is littered with examples of foreign firms entering new markets using marketing campaigns the local public have found offensive. And with the wrong turn-of-phrase on its corporate branded assets, a business can easily provoke public backlash.
Additionally, irrelevant content frustrates users and complicates their ability to engage and conduct transactions. Each word published on a self-service platform should be carefully chosen to help the client conduct the transaction they want or help a would-be client along the buyer's journey.
AI-Powered Virtual Intelligent Agents
With active self-service portals supporting customers for their language and region, digital-first global companies are now expanding into new global automation.
Beyond the fundamental portal is an AI-powered virtual intelligent agent. Ideally, a virtual Intelligent Agent uses AI to identify, categorize, prioritize, and assign service work, automating important service functions. These functions ensure that customers and employees alike receive timely help—whether a request for new equipment, a product question, or order status.
One excellent example of this kind of tool is Service Now's Intelligent Agent. Currently available in 3 major languages, ServiceNow developed process flows for Intelligent Agent that are streamlined and reflects both literal language translation and cultural and regional context for the markets in which it is available.
ServiceNow's Intelligent Agent uses both an AI and a human translator, which provides contextual context and a customized workflow for the Intelligent Agent. For example, with Intelligent Agent, when a French user enters a request for a new password, a human translator has already provided real-time contextual content to IA and linked to a custom workflow for the Intelligent Agent. The Agent analyses the query and quickly delivers a correct solution to the customer.
Streamlined Customer Service
Retailer Gap and SaaS CRM companies have extended self-service processes by simplifying and automating them. New tools, including mobile apps and net promoter systems, allow internal users and customers to communicate and provide real-time actionable feedback easily. Gap has focused on making online customer interactions easier by simplifying front-end and back-end processes for various self-service transactions.
Beyond these examples, businesses can further streamline their processes using:
Chatbots for customer support and social media transactional use

Content preferences and personalization features powered through AI

Videos and visual apps

Translation technologies integrated with both client-facing applications

and

back-end workflows

Cross-device functionality that ensures customer access through opt-ins for content and contacts, as well as accessible e-commerce tools
Simplified processes across global internal tools engage a wider range of users and facilitate positive client-company interactions. And pairing an effortless client experience with a personalized client experience encourages repeat purchase behavior and engenders brand loyalty.
Using self-service and AI-powered tools helps companies make doing business with them easy. And over time, these tools are becoming even more advanced and refined, allowing businesses to optimize their customer experience continuously. Each year brings with it more advancements in personalization, new best practices in digital customer service and training, and prioritization of optimal customer experiences. Businesses must leverage global self-service by building effective self-service platforms that are accessible and relevant to diverse audiences, incorporate AI-powered tools, and make business-client transactions as simple as possible.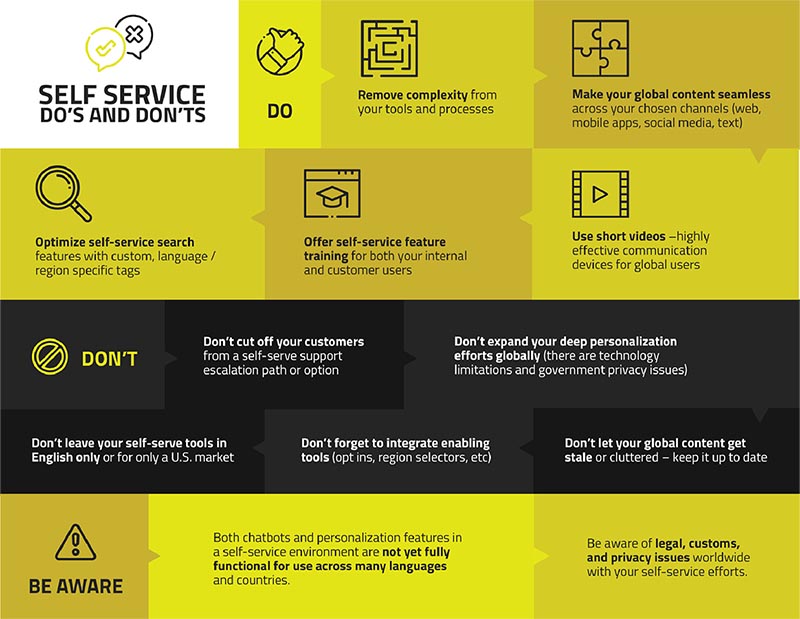 To learn more about building digital-first strategies, visit us at https://vistatec.com/digital-first/, or contact us today. 

About Vistatec
We have been helping some of the world's most iconic brands to optimize their global commercial potential since 1997. Vistatec is one of the world's leading global content solutions providers. HQ in Dublin, Ireland, with offices in Mountain View, California, USA.