Empowering Your Business With Global Self-Service
In today's digital age, businesses provide consumers and clients worldwide with the ability to adapt from physical to digital interactions. Not only are businesses rapidly engaging in a digital transformation of their client-facing assets, but consumers are demanding online tools that allow them to engage with brands and businesses according to their specific preferences.
While this burgeoning consumer demand predates 2020, it increased exponentially as cities, states, and nations endured lockdowns. Accordingly, businesses scaled up their digital transformation efforts significantly. Global consultancy firm Accenture reported early in the pandemic there had been three years' worth of digital transformation within the span of only three months!
Digital transformation is at the heart of the new normal. A driver of the new status quo is consumer reliance on digital platforms. As consumers have had to transition from face-to-face interactions and transactions, public and private sector organizations have had to provide them with digital customer-first self-service platforms to continue operating. And consumers have not only adjusted to them quickly, but they've also come to expect that the organizations with which they engage provide them with the option of a completely online experience.
Even as the pandemic recedes in some parts of the world, consumers have continued to demand robust online engagement options. Whether seeking information, arranging a consultation, or making a purchase, many consumers primarily interact with brands online using self-service portals, AI-powered virtual agents to chat, e-commerce features, and personalization options.
Self-service is also fueled by the mass adoption of personal digital devices, such as smartphones and tablets, especially in parts of the world where face-to-face business methods are unavailable. However, consumers increasingly rely on these devices to help them manage and organize their personal lives. As they do, they expect to learn, request information, purchase, and receive customer service, all with a few taps of their device.
As users are adapting to a digital-first approach, with many device entry-points, so must organizations. Businesses must provide consumers and clients with self-service options to secure their existing market position and increase market share.
What is Global Self-Service for the Digital Experience?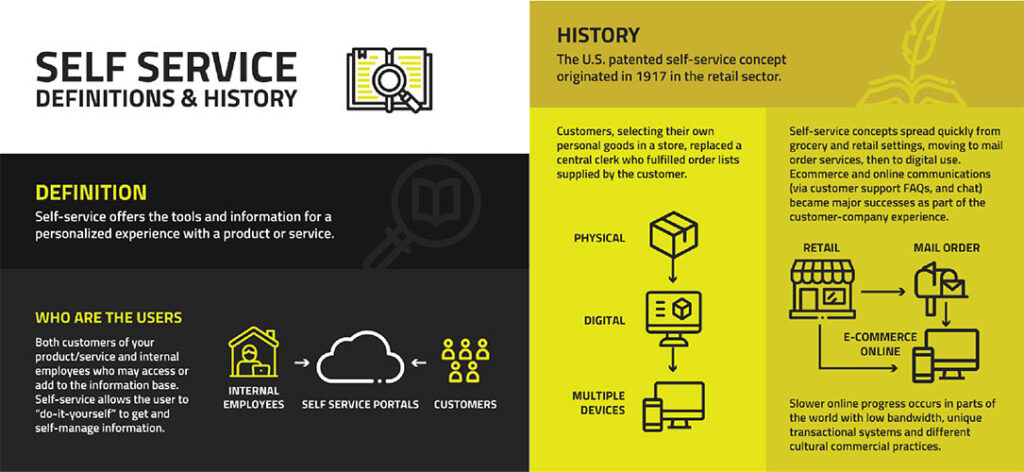 In today's digital world, self-service is the keystone for customer service applications. AI and machine learning technologies have allowed businesses to implement innovative customer self-service features, from virtual agents to chat and personalization. The new normal, digital self-service is a cost-effective way to deliver faster client support and enablement.
A central part of digital self-service is a portal on a company's website. The portal has resources to help users resolve service needs and find related information on their own. These portals typically offer client and employee self-service and can greatly reduce the resources a company spends addressing basic inquiries and functions. And when integrated with a company's CRM, they can also offer personalized content to a returning client that the client may find valuable.
Research shows that 90% of consumers now expect a brand or organization to offer a self-service customer support portal. Roughly three-quarters of consumers want the ability to solve product or service issues on their own. No longer can companies afford to establish a rudimentary one-page website and hope that compelling copy wins them business. Consumers will seek companies that make it effortless to engage in the manner they see fit and avoid companies that do not.
The Benefits of Global Self-Service
Offering self-service to clients bestows big benefits to not only clients but businesses as well. Companies have reported:
Reductions in client query response times
Increased client support effectiveness
Quicker resolutions of support cases,
Better client experiences
Large cost reductions in support services across service channels
When clients can self-serve, their transactions are often resolved more quickly, more effectively, and with less effort than if they had used traditional channels. These positive experiences can help deepen a client's engagement with and loyalty to a company, even if the client never sets foot in a brick-and-mortar location.
Indeed, companies that provide self-service options that cater to local markets can unlock considerable growth opportunities. Self-service options that are accessible in multiple languages and account for cultural variations in consumer preferences can help companies gain or grow their foothold in foreign markets.
Companies must continue to make digital self-service across all company support areas a strategic imperative. However, business leaders must follow the adage "crawl, walk, run." Effective digital transformation requires companies to thoughtfully implement continuous improvement over time, based on carefully assessing existing infrastructure, current and future needs, and the changing business environment.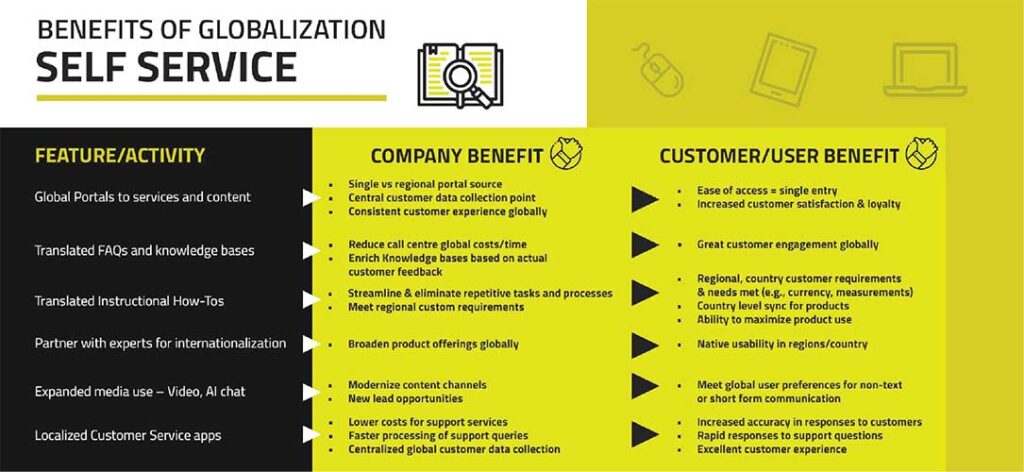 About Vistatec
We have been helping some of the world's most iconic brands to optimize their global commercial potential since 1997. Vistatec is one of the world's leading global content solutions providers. HQ in Dublin, Ireland, with offices in Mountain View, California, USA.