Global Digital Overview
An extensive new collection of Digital 2019 Reports reveals that internet users are now growing by an average of more than one million new users every day, with all of the original 'Next Billion Users' now online.
The number of people using the internet has surged over the past year, with more than one million people coming online for the first time each day since January 2018. It's not just internet users that have been growing either, as the extensive new collection of Digital 2019 reports from Hootsuite and We Are Social reveals.
The number of mobile connections around the world has grown by more than 4 per cent in the past twelve months, reaching more than 8.8 billion at the start of 2019. However, the typical mobile user around the world now has an average of 1.73 mobile connections.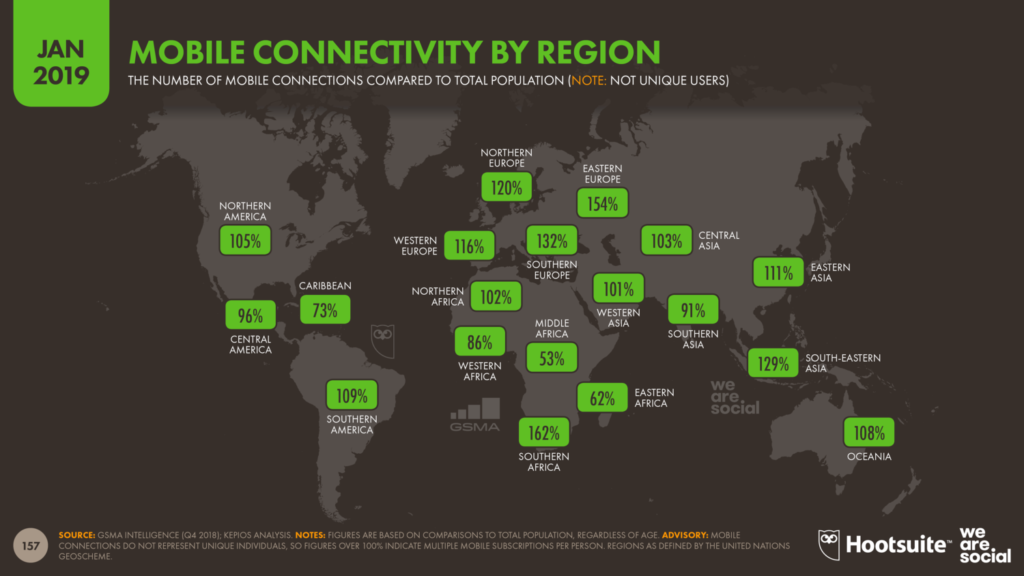 These big numbers mean that India is responsible for more than a quarter of this year's total global growth. Overall, Asia-Pacific delivered 55 percent of the annual growth figure, with China adding another 50 million new users in the past year.
Perhaps surprisingly though, the United States takes third spot in our global ranking of absolute internet user growth. Despite already enjoying an internet penetration rate of 88% this time last year, internet users in the US grew by almost nine percent year-on-year, reaching a total of more than 310 million users in January 2019 (95 percent penetration).
Meanwhile, African nations dominate the list of countries with the fastest growing internet communities, although many of these countries start from relatively small bases. Western Sahara saw the greatest year-on-year relative gains, with the reported number of internet users in the country increasing by almost five times since January 2018.
Five countries saw their internet populations double over the past 12 months, while nine countries experienced annual growth of 50 percent or more.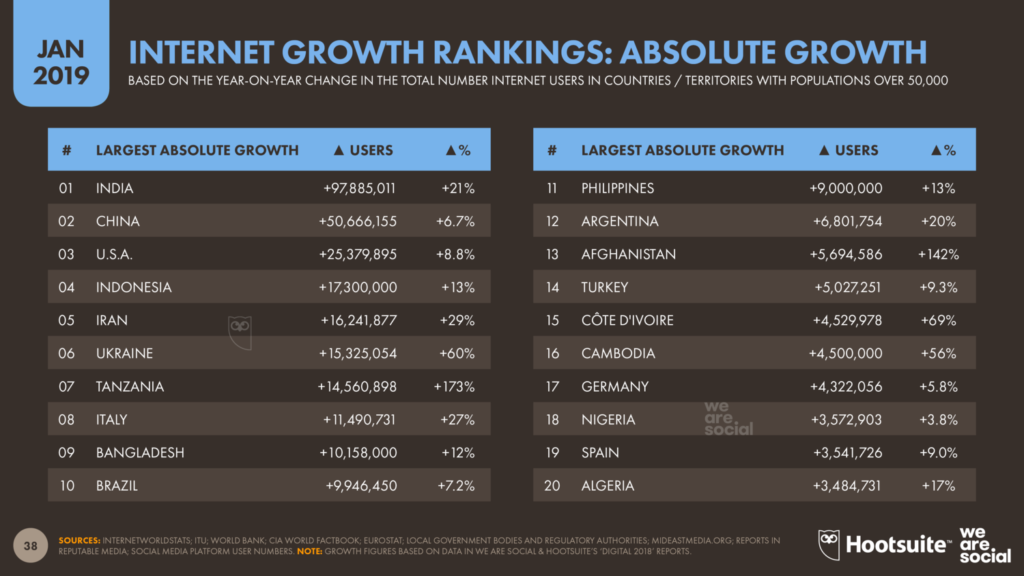 If you'd like to dig deeper into the full collection of Digital 2019 reports, you'll find every one of them for free in the library here on DataReportal.com, together with all of their previous reports from the past 8 years.
These are some essential insights into how people around the world use the internet, mobile devices, social media and e-commerce.