Subscribe to this content series and be the first to be notified when new content is released
Subscribe to this content series and be the first to be notified when new content is released
Safeguarding Translation Quality in the Age of AI
An interview with Vistatec's Monika Bugiel, Language Services Manager 
AI-powered translation is now everywhere. Google Translate. Bing Translator. ChatGPT. Global businesses are keen to get started so they can deliver content quickly and at scale across the globe to their multilingual customers. However, alongside the excitement for this new technology is the knowledge that the quality may not yet be good enough for many purposes. AI translations can contain bias, errors, and 'hallucinations,' and while brands may be in a hurry to capitalize on productivity and cost savings, poor quality is something most can't afford. As the demand for translation has never been higher, these quality challenges must be resolved quickly. This is where the language services industry is stepping up with gusto: developing tools, processes, and approaches to ensure the quality of AI translations at speed and scale. 
To learn more about how LSPs are innovating on quality processes in this age of AI, I met with Monika Bugiel, Vistatec Language Services Manager. She is a 23-year veteran of the localization industry and an expert in translation quality assurance. In her role at Vistatec, Monika focuses on strategy and processes related to quality assurance and quality control and manages a team of language quality specialists. We spoke about how translation quality impacts trust in a brand, mitigating risk with AI translation models, and what needs to happen to drive human-level quality.  
Takeaways from Monika on translation quality in the Age of AI
Language services are working hard to adapt existing translation quality processes and drive new ones to fit the new LLM translation models. No one will set previous AI translation models aside, but quality processes and best practices will change to fit the new generative models. Translation prompt engineering will be critical, and we will see jobs with this specific area of expertise in the language services industry. Tools integrations will also be crucial, with engineers figuring out how CAT tools like translation memory will work with LLMs. MT and LLM aggregation and integration will be a topic at industry conferences.  
And we're thrilled to be in the middle of it. 
If you are using or want to use AI translation and are concerned about how you will control quality at source or after translation, our experts like Monika can guide you. Connect with a Vistatec expert here for a conversation. 
As part of our Insights Unveiled series, each month we are releasing new perspectives and insights on the current and future landscape of the localization industry. Sign up below to ensure you don't miss out on more insights, answers, and predictions about the future of localization.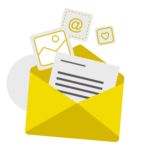 Sign up to this content series and be the first to be notified when new content is released
Sign up to this content series and be the first to be notified when new content is released