VistaTalks Ep - Shane Ryan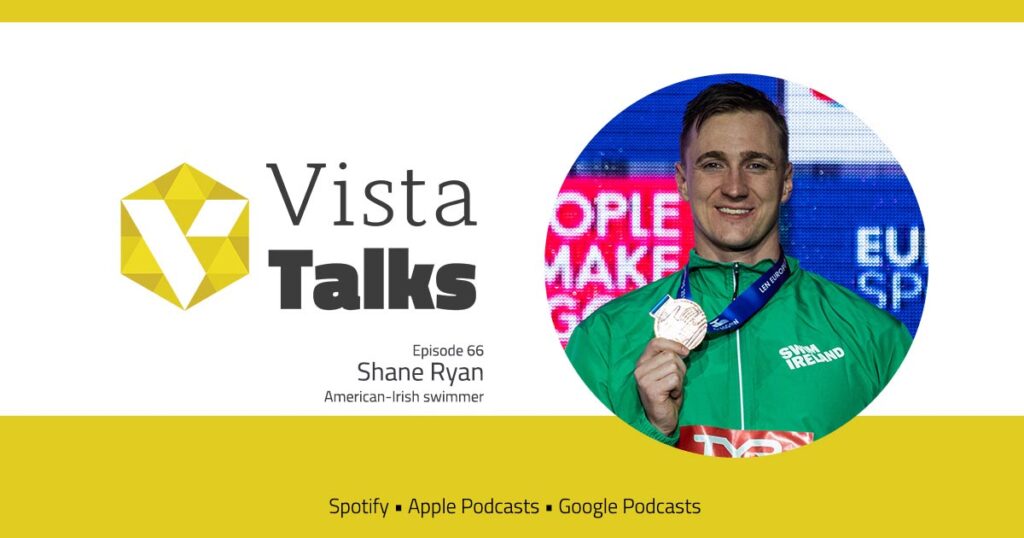 Shane Ryan Olympian is an American-born swimmer who will be participating in his second Olympics representing Ireland at the Tokyo Olympics. He joins VistaTalks host Priscillia Charles, and in this episode, they discuss Shane's journey to the Olympics and his training program. Shane shares how living in an old house by himself with no money, and only a bicycle
for transportation set the path for his place in the latest Olympics. 'Some of the best athletes
in the world are the best because they focus on the little things.' says Shane.
Shane's hard work and determination, traits that have stood to him as an elite athlete, paid
off handsomely as he graduated from high school and received a scholarship to Penn State University, graduating with a degree in Event Management. Shane was known as the swimming guy during his childhood, demonstrating his talent from an early age.
Training for an Olympics during a pandemic has been an interesting challenge. Shane shares how when things first started to shut down in Ireland, he was in an airport about to go to Edinburgh, and his coach decided they were not going. Around 30 athletes were due to
travel and were not allowed to go.
With the Olympics postponed, Shane reconciled the changes with the mindset that he would
be better than his competitors and that this was another year for him to get better!
Shane was a keynote speaker at the recent Think Global Awards. The Think Global Awards shine a spotlight on the achievements of people, projects, brands, and companies around the world. The annual awards program is part of the more comprehensive Think Global Forum activities.
Shane shared the background as a professional swimmer – an Olympian at the 2016 Rio Olympic Games, selected for the Irish Olympic Team, Tokyo 2021. He is a former member of Penn State's Men's Swim Team. He has come a long way fro m being an Olympic swimmer living in solitary confinement in Dublin, Ireland, during the Covid-19 lockdown (where he had no human contact for a full three months) to competing at the highest level at the Olympic games, Shane's journey continues.
About Vistatec
We have been helping some of the world's most iconic brands to optimize their global commercial potential since 1997. Vistatec is one of the world's leading global content solutions providers. HQ in Dublin, Ireland, with offices in Mountain View, California, USA.