VistaTalks Ep - Mel McVeigh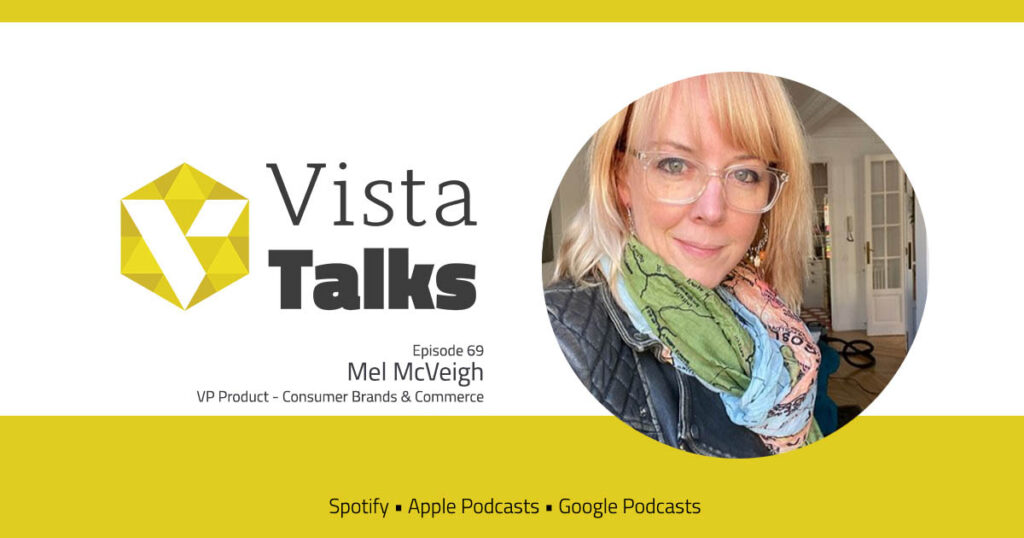 Mel McVeigh is VP of Product Commerce & Consumer Brands at Condé Nast. Mel is responsible for leading key brands globally across the portfolio – Vogue, GQ, Condé Nast Traveller, Arch Digest, Allure and is now leading the transformation of new revenue opportunities within the commerce space. Mel has worked in various publishers and commerce companies including, Photobox, Telegraph, Mr & Mrs. Smith, Lonely Planet, and TimeOut. 
Mel is a problem solver and has an exciting background in creativity, is trained in photography, and is an artist. Mel shares one of the things that you are taught at school is to explore all ideas! As a problem solver, Mel discusses how we can always do better, and that is why she loves her job because the intersection of creativity and delivery is at the heart of what she does at Condé Nast.
In this episode of VistaTalks, we explore how a legacy company can be more complex and how before you can get to create, you have to solve the complexity first. Mel shares first hand the new launch of a digital global edition for Condé Nast. We discuss Mel's international position and how the organization is going through a considerable transformation. Mel shares how up until a year ago they were 12 companies consisting of different strategies and portfolios.
Mel works across Condé Nast's internationally recognized brands in multiple markets, such as the 'new yorker.' She shares that while it's a global brand, it is the 'new yorker' the teams are in New York and how everything about it is about the identity of New York.
An interesting comparison to the new title launch, which is almost the complete opposite, it's available in 26 markets and is the full depth and breadth of fashion, culture and media.
Working with a vast array of international editors and teams on the various titles and brands is an interesting dynamic and something that becomes critical when launching a new global title into multiple markets simultaneously. Mel shares information on creating for the desktop and mobile versions, video players, content teams, and how the consumer experience must be flawless.
The publishing world is a clear intersection of creativity and delivery; even though Condé Nast doesn't make transactional products, the product is not a delivery like Uber Eats; it's about storytelling. Mel conveys how to do authentic storytelling; 'we need to be in the room with the editorial team' and how she is proud of these projects.
This latest release is a huge undertaking. Product design and engineering work together with the editors to create a new issue across the globe in every language; it's on every website!
Mel shares that the product is our content, and this has to be first class. The job in product and design is to take that and translate it into a version online simultaneously, understanding and delivering on the heritage, quality, and storytelling.
In the discussion, we touch on the publishing titles that have done well during the pandemic, the travel landscape, and how various industries have had to adapt and do things differently.
This episode contains many interesting areas and learning points that span a range of topics. Listening to this episode in full is highly recommended.