Pride in a Global Community
by Gregory Twohig and Kayla Kim
June 28th, 2019 marks the 50th anniversary of the Stonewall riots in New York – an event which has been recognized as the turning point for the gay rights movement and the advent of the first LGBTQ+ pride march the following year.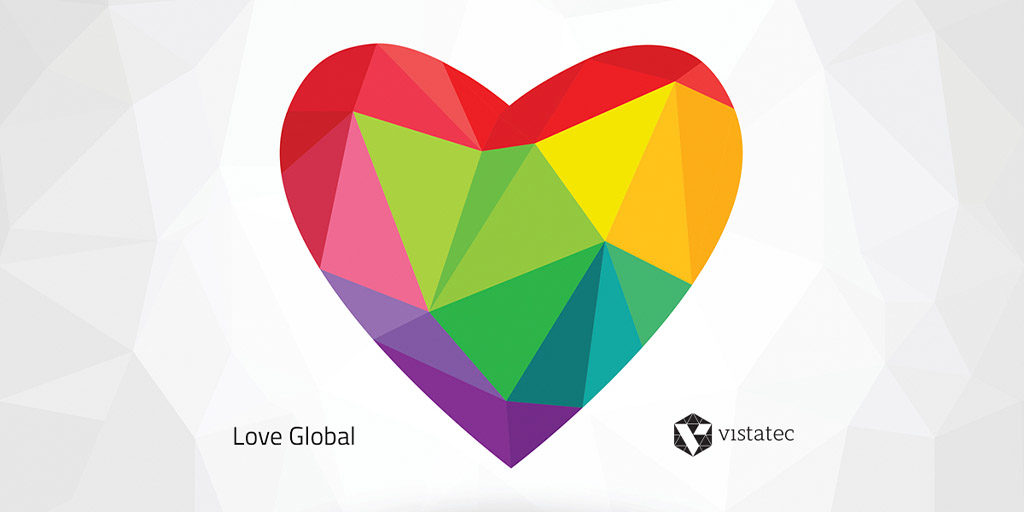 This year in Ireland, we mark 39 years since the first significant 'Pride Week' organized in Dublin in 1980. Ireland has seen a massive transformation in this area since the decriminalization of homosexuality in 1993, same-sex marriage legalization in 2015 and the movement towards equality for same-sex parents.
Up until quite recently, regressive decisions have been made in countries across the world to criminalize homosexuality further and persecute members of the LGBTQ+ community.
In recent years, we've seen a rise of company involvement in social advocacy. For example, International Women's Day is one event that many companies celebrate to recognize the advances women have made in closing the gender gap but also to acknowledge the space that continues to exist between men and women.
Companies are starting to understand the necessity of taking a stance on social issues. Large corporations have the scale, positioning and platforms to communicate the kind of messages that can echo and make waves with future generations.
As Millennials and Gen Z populations look to align themselves with brands that echo their values, the benefit of this type of advocacy is hard to ignore.
However, ahead of the global pride celebration, it is essential to note the dark side of corporate involvement. Corporate sponsors can often remove the focus on the past and poignant history of Pride. While it can be viewed as a cornerstone of visibility and support, it could become perceived as a marketing ploy. Companies can fall into the trap of merely paying lip service to the cause, just 'to be seen' as supportive. This kind of behavior can alienate stakeholders, including consumers. The appeal for advocacy then gets lost on companies and stakeholders alike.
Companies invest in heavily branded rainbow floats; rainbow branded corporate swag, social media campaigns, and more. The 'invisible' side of corporate support is what gives credibility to a brand's involvement in Pride. Investing in internal and external CSR is essential to the long-term sustainability of an inclusive and accepting environment. Pride month should not be the only time that businesses exhibit these values; instead, they should be ingrained in the ethos of the company and actively promoted throughout the year.
Invisible to some of the world is that more than half of the entire, LGBTQ+ community do not have full legal protection against being discriminated in the workplace.
Sometimes this can mean that employees who identify as LGBTQ+ are vulnerable to being rejected for jobs and promotion, being fired from their job and being mistreated because of their identity.
When we think about Vistatec's identity, it is impossible to ignore ourselves in a global context. We are a global content solutions business. But what does that mean? Both internally and externally, we have a vast array of people from different places that exist in our ecosystem.
Our company helps to connect people within the global community through content and language. We, therefore, have a diverse and growing workforce that makes us incredibly proud.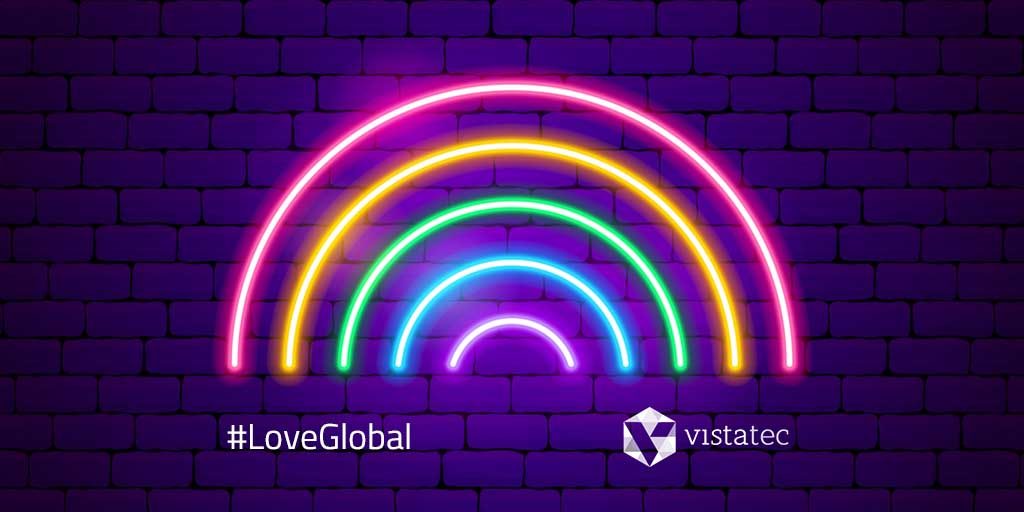 We have employees from every part of the world. As a direct result, we have many differences among us, however, the beauty in our diversity is that even with differences, we are still able to find ways to connect.
The importance of connection and shared meaning is of paramount importance. At the core of the work we do, we understand that no one language is more significant than another. With that same attitude in mind, no one person here is more important than the other. Each one of our employees creates an integral part of our overall company identity.
As a global organization, it is our responsibility to be mindful of global issues.
Although there has been amazing and rapid progress in Ireland, (the location of our global headquarters), there is a stark contrast within the global context of LGBTQ+ equality when comparing other countries around the world where repressive legislation is happening, and active persecution of the community continues to take place.
It is important to put in the work to ensure companies thrive on a global stage. As we continuously strive towards improving Vistatec in many areas, we look forward to working even closer with our global community to develop a better tomorrow, as we assist with the globalization of ideas, equality, and freedom.
There is power in communication and understanding. We can all strive to create an ideal world in which everyone is respected for who they are.
#LoveGlobal