VistaTalks Ep - Ruth Dolla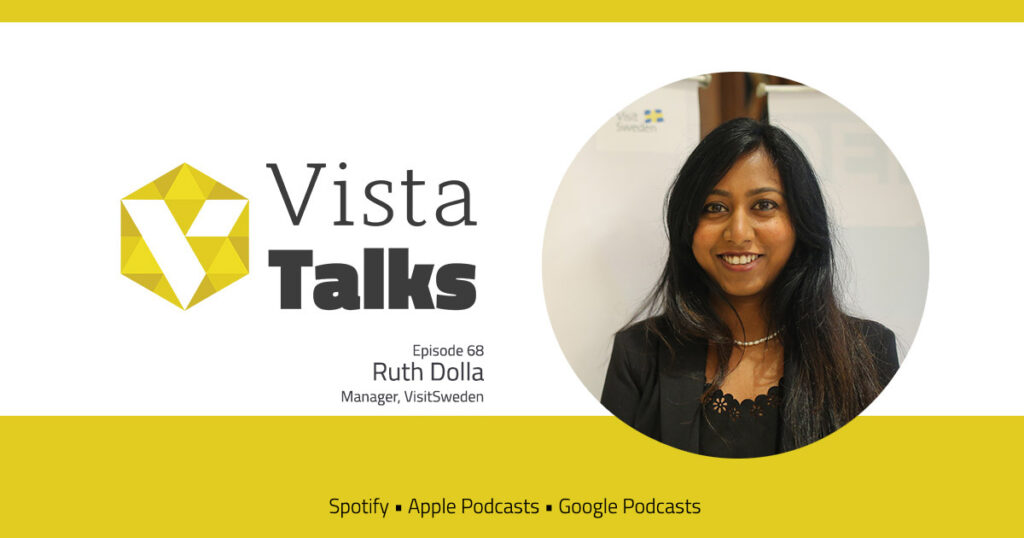 Ruth Dolla, Manager at Visit Sweden, joins VistaTalks host Simon Hodgkins. In this episode, we discuss how Visit Sweden won the Think Global Award Travel category. Ruth explains how the organization started marketing Sweden around ten years ago, where the Indian traveler mistook Sweden for Switzerland. Ruth is glad to report how the number of visitors from India has significantly increased. We discuss how the organization has had to pivot during the pandemic to staycations, which is a little different from the business of attracting international travelers to Sweden.
Ruth shares initiatives Visit Sweden have developed, including The Drinkable Country and The Edible Country:
The Drinkable Country – Swedish nature offers a sensational flavor palette – perfect for mixing fantastic drinks. In collaboration with Sweden's most prominent beverage experts, we have developed creative drink recipes based on local ingredients to help you explore Sweden's nature in a tasteful fashion.
The Edible Country – In Sweden, naturally healthy food can be found just around the corner – in our forests, lakes, and meadows. That's why we've created the world's largest gourmet restaurant: the Edible Country. In collaboration with four Michelin-starred chefs, we have created inspirational menus featuring local produce to help you experience the Swedish pantry.
The team at Visit Sweden is focused on a mission to attract more tourists but also, at the same time, creating employment within the country in the hospitality sector. Ruth is proud to share how Sweden has 83 points out of 100 on the gender equality index and ranks first in the EU. She conveys how the percentage of women in Parliament is 47% as opposed to 32% in the EU and 26% in North America.
We discuss another campaign focused on Stockholm and how it's an open city in an open country for everyone. Ruth is proud of how Sweden promotes inclusive cities. An entire board is part of the government dedicated to tasks such as exploring gender biases in society. For example, if your school's educational textbooks have a gender bias, they are tasked with changing it.
Ruth began her career as an investigative journalist in India, working in the second-largest newspaper. She switched to PR agencies and advertising agencies, working on creating concepts for different brands. Once Ruth realized that she wanted to do more of the strategy, planning, and brand elements, she worked in several industries, including marketing in Formula One, Wines, and entertainment/Bollywood, before joining Visit Sweden.