VistaTalks Ep - Nataly Kelly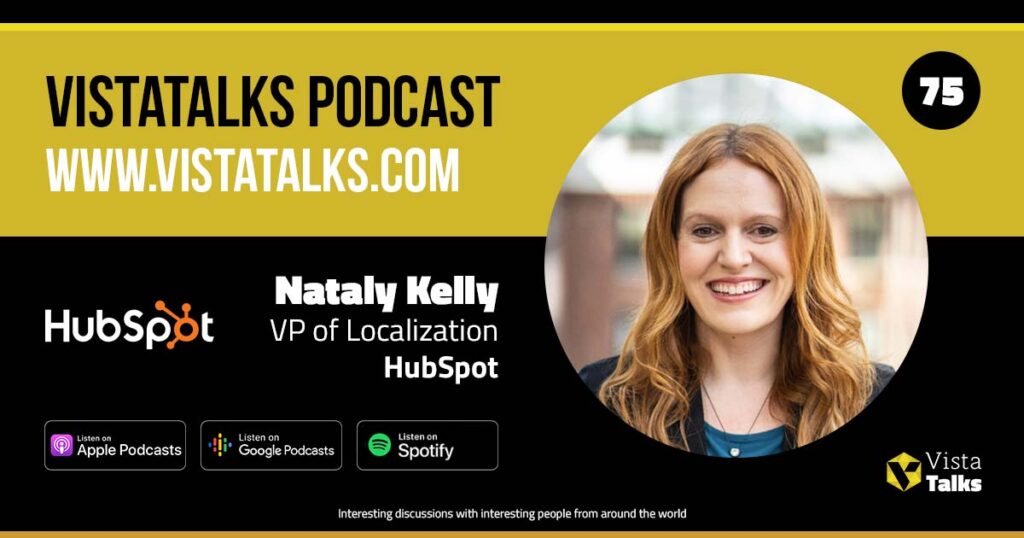 Nataly Kelly is the VP of Localization at Hubspot, a published author with Penguin Random House and a board member at Multilingual magazine. Nataly is the author of Born to be Global, a well-known blog in the language industry, and a contributor to Harvard Business Review.
Host Simon Hodgkins catches up with Nataly Kelly to discuss several industry topics. Nataly leads a globally distributed team located in Cambridge, Dublin, Berlin, Tokyo, Bogotá and many remote locations.
At HubSpot, the localization team ensures that the users, partners, and customers worldwide have a locally delightful experience! Each quarter, they carefully curate hundreds of localized experiences and millions of words of non-English content for content marketing, demand generation content, in-app messaging, product UI, knowledge base, audiovisual content, graphic design, and other customer-facing comms. The localization team partners with all internal functions to provide strategic and technical guidance on globalization across multiple areas of the HubSpot business.
In this discussion, Nataly shares the differences in holding several senior roles in the HubSpot organization. From VP of Marketing to VP of International Operations and Strategy to the current role as VP of Localization.
Nataly is the Co-author of the book 'Found in Translation: How Language Shapes Our Lives and Transforms the World.' A book about the role of translation in society, published by Penguin Random House.